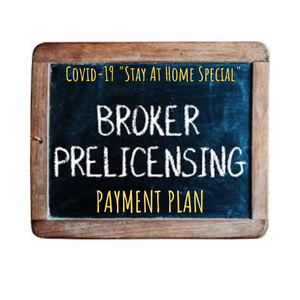 Stay at Home Special-  Payment 5 of 6 (Due Feb 1)-  $249.50
Late fee of $50.00 assessed on Feb 17th, 2023
Total is $1497.00 (not including late fees)


Per Covid-19 Orders.  This class given via instructor led livestream (ZOOM) until further notice.
The following books included in price.  Books are non refundable.
Mastering Real Estate Principles  

Maryland Real Estate Practice & Law 

Real Estate Brokerage- A Management Guide 

Insiders Guide to Commercial Real Estate 
Schedule breakdown for Module 1
Book Pickup - Sept 27, 28, 29 10am-4pm
Books Picked up at 8230 Ritchie Highway, Pasadena, MD 21122 (Century 21 The Real Estate Centre)
Mon Oct 3

Wed Oct 5
Mon Oct 10

Wed Oct 12

Mon Oct 17
Wed Oct 19
Mon Oct 24

Wed Oct 26

NO CLASS MON OCT 31

Wed Nov 2- End Module 1
Nov 1, 2, 3, 4 -MOD 2 & 3 Book Pickup in Pasadena 10am-4pm
Schedule Breakdown for Module 2
MOD 2 & 3 Book Pickup- Nov 1,2,3,4 -10am-4pm
Books Picked up at 8230 Ritchie Highway, Pasadena, MD 21122 (Century 21 The Real Estate Centre)
Mon Nov 7
Wed Nov 9
Mon Nov 14
Wed Nov 16
NO CLASS NOV 21 & 23
Mon Nov 28
Wed Nov 30
Mon Dec 5
Wed Dec 7
Mon Dec 12 End Module 2


Breakdown of Schedule for Module 3
Wed Jan 4
Mon Jan 9
Wed Jan 11
Mon Jan 16
Wed Jan 18
Mon Jan 23
Wed Jan 25
Mon Jan 30
Wed Feb 1
Mon Feb 6, 2023- FINAL EXAM DONE IN PERSON
Final held at 8220 Ritchie Hwy, Pasadena, MD 21122 (Elite Learning Academy training center)