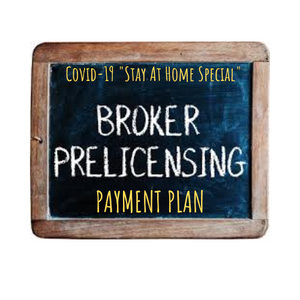 Stay at Home Special- Payment 3 of 6- $249.50
Total is $1497.00
Due by Dec 15, 2021.  $50.00 late fee after that.
LATE FEE ADDED DEC 16th.
Per Covid-19 Orders.  This class given via instructor led livestream (ZOOM) until further notice.
The following books included in price.  Books are non refundable.
Mastering Real Estate Principles  

Maryland Real Estate Practice & Law 

Real Estate Brokerage- A Management Guide 

Insiders Guide to Commercial Real Estate 

Schedule breakdown for Module 1
Wed Sept 29th- Book Pickup in Pasadena 10am-12pm
Mon Oct 4

Wed Oct 6
Mon Oct 11

No Class Wed Oct 13th

Mon Oct 18
Wed Oct 20
Mon Oct 25
Wed Oct 27
Thurs Oct 28th- MOD 2 & 3 Book Pickup in Pasadena 10am-12pm
Mon Nov 1
Wed Nov 3-End Module 1
Module 2
Mon Nov 8
Wed Nov 10
Mon Nov 15
Wed Nov 17
Mon Nov 22
No Class Wed Nov 24th
Mon Nov 29
Wed Dec 1
Mon Dec 6
Wed Dec 8- End Module 2
Breakdown of Schedule for Module 3
Wed Jan 5, 2022
Mon Jan 10, 2022
Wed Jan 12, 2022
Mon Jan 17, 2022
Wed Jan 19, 2022
Mon Jan 24, 2022
Wed Jan 26, 2022
Mon Jan 31, 2022
Wed Feb 2, 2022
Mon Feb 7, 2022- FINAL EXAM DONE IN PERSON