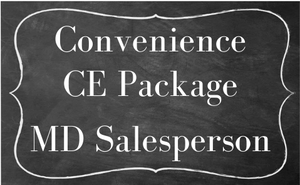 15 Credit Bundled schedule includes the 15 CE Credits needed to renew your Real Estate License in Maryland.
DATES AND CLASSES ARE NOT INTERCHANGEABLE AND WILL NOT BE SUBSTITUTED OR RESCHEDULED! 
Bundle must be taken as scheduled below.
MD Salesperson CE Bundle 2 Includes-
Tues April 4th- MD Legislative Update (a) 10am-1pm
Tues April 4th- MD Fair Housing (c) 1:30-3pm
Thurs April 6th- Agency (MREC BRAD-h) 10am-1pm
Thurs April 6th- Property Management (f) 1:30-3pm
Fri April 7th- How to Sell HUD Properties (f) 10am-11:30am
Thurs April 13th- MD Code of Ethics (d) 10am-1pm
Thurs April 13th- Mental Toughness for Agents  (f) 1:30-3pm
*ZOOM links are emailed the day before class between 2 & 3pm.  Please be sure you have it.