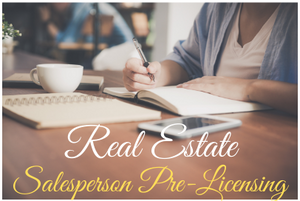 Jordan Mitchell makeup time- 1 hour @$45.00
Total- $45.00
Payment due prior to attending makeup session.
This course will be in person.
 Registration Closes Feb 13, 2023

The cost of the course is $250.00 plus books ($78.00):  Total Cost $328.00
This Class is the 60 Hour Course Required by the State of Maryland in order to take the State issued PSI Exam for Real Estate Salesperson license. 
SCHEDULE BREAKDOWN
Book Pickup Feb 14, 15, 16 anytime between 10am-4pm
Held at 1425 Clarkview Rd, Baltimore, MD 21209
(Berkshire Hathaway-Homesale Realty)
Class times are 6:30-10:30pm
·        Tues Feb 21st
·        Thurs Feb 23rd
·        Tues Feb 28th
·        Thurs March 2nd
·        Tues March 7th
·        Thurs March 9th
·        Tues March 14th
·        Thurs March 16th
       Tues March 21st
·        Thurs March 23rd
·        Tues March 28th
·        Thurs March 30th
·        Tues April 4th
·        Thurs April 6th
·        Tues April 11th
·        Tues April 18th- FINAL EXAM 6:30-8:30pm 
Books-
Modern Real Estate Practices 21st Edition
Maryland Real Estate Practice and Law 16th Edition  
Cost:  $78.00 (Included in total Price- Non Refundable)
For more information on Real Estate Agent Requirements in the State of Maryland and Elite Learning Academy.

CLICK HERE for Maryland Requirements

CLICK HERE for Course Catalog (Policies- Read before enrolling).          

CLICK HERE FOR PSI Pamphlet

For information on what to expect with a Career in Real Estate CLICK HERE