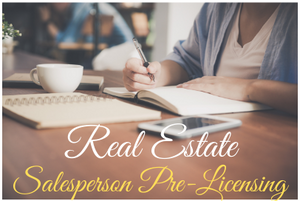 Genesis Mejia Makeup time-  1 Hour @$45.00
Total $45.00
Due prior to attending makeup session.
This course is in person.  Books will be given out at the first class.  Please arrive by 6pm on this night.
REGISTRATION DEADLINE: May 22, 2023
REVIEW COMPLETE SCHEDULE BELOW!

The cost of the course is $250.00 plus books ($78.00):  Total Cost $328.00
This Class is the 60 Hour Course Required by the State of Maryland in order to take the State issued PSI Exam for Real Estate Salesperson license. 
SCHEDULE BREAKDOWN
Book Pickup -Please arrive at 6pm June 5th
Class dates
Mon June 5, Wed 7
Mon 12, Wed 14
Mon 19, Wed 21
Mon 26, Wed 28
No class July 3 or 5th
Mon 10, Wed 12
Mon 17, Wed 19
Mon 24, Wed 26
Mon 31
Mon Aug 7- Final Exam


Books-
Modern Real Estate Practices 21st Edition
Maryland Real Estate Practice and Law 16th Edition  
Cost:  $78.00 (Included in total Price- Non Refundable)
For more information on Real Estate Agent Requirements in the State of Maryland and Elite Learning Academy.

CLICK HERE for Maryland Requirements

CLICK HERE for Course Catalog (Policies- Read before enrolling).          

CLICK HERE FOR PSI Pamphlet

For information on what to expect with a Career in Real Estate CLICK HERE