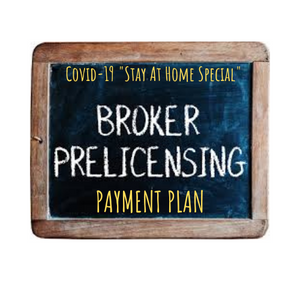 Stay at Home Special-  Payment 4 of 6 (JUNE payment)-  $249.50

Due now- PARTIAL PAYMENT OF $200.00

Remainder of this payment $99.50 due asap

Late fee of $50.00 will be added June 16th
Per Covid-19 Orders.  This class given via instructor led livestream (ZOOM) until further notice.
The following books included in price.  Books are non refundable.
Mastering Real Estate Principles  

Maryland Real Estate Practice & Law 

Real Estate Brokerage- A Management Guide 

Insiders Guide to Commercial Real Estate 
Schedule breakdown for Module 1
Book Pickup - Feb 28, March 1 & 2  10am-4pm
Books Picked up at 8230 Ritchie Highway, Pasadena, MD 21122 (Century 21 The Real Estate Centre)
Mon March 6

Wed March 8
Mon March 13

Wed March 15

Mon March 20
Wed March 22
Mon March 27

Wed March 29
Mon April 3- End Module 1
April 4, 5, & 6-MOD 2 & 3 Book Pickup in Pasadena 10am-4pm


Schedule Breakdown for Module 2
MOD 2 & 3 Book Pickup- April 4, 5, 6 -10am-4pm
Books Picked up at 8230 Ritchie Highway, Pasadena, MD 21122 (Century 21 The Real Estate Centre)
Wed April 12
Mon April 17
Wed April 19
Mon April 24
Wed April 26
Mon May 1
Wed May 3
Mon May 8
Wed May 10-End Module 2


Breakdown of Schedule for Module 3
Wed May 17
Mon May 22
Wed May 24
No Class Monday May 29th
Wed May 31
Mon June 5
Wed June 7
Mon June 12
Wed June 14
Mon June 19 2023- FINAL EXAM DONE IN PERSON
Final held at 8220 Ritchie Hwy, Pasadena, MD 21122 (Elite Learning Academy training center)